To stay relevant in today's competitive market, most small to mid-sized businesses are on the lookout for a professional website. Because a professional WordPress website adds to the credibility of a business, which helps gain more customers and generate more gross profits.
But the issue arises when they've to decide which website builder can give a professional-looking website. Since WordPress is a famous website builder, its name tops the mind. You're here means you also need to know, whether WordPress is good for professional websites.
Based on the arguments, authoritative claims, and statistics from credible resources, it's safer to claim that websites built on WordPress are highly professional which help establishes credibility and if optimized well would attract relevant customers.
Is it all to decide?
Absolutely Not! There's so much more to know before you could decide.
Throughout the post, you'll see the reason why WordPress can give you a professional-looking website. Besides, you'll see what problems you could encounter with your WordPress website and what to do about it – which is indispensable to know if you want to run your business website smoothly.
Without further ado, let's get into the nuts and bolts of analyzing the query in detail.
7 Characteristics of a Professional Website;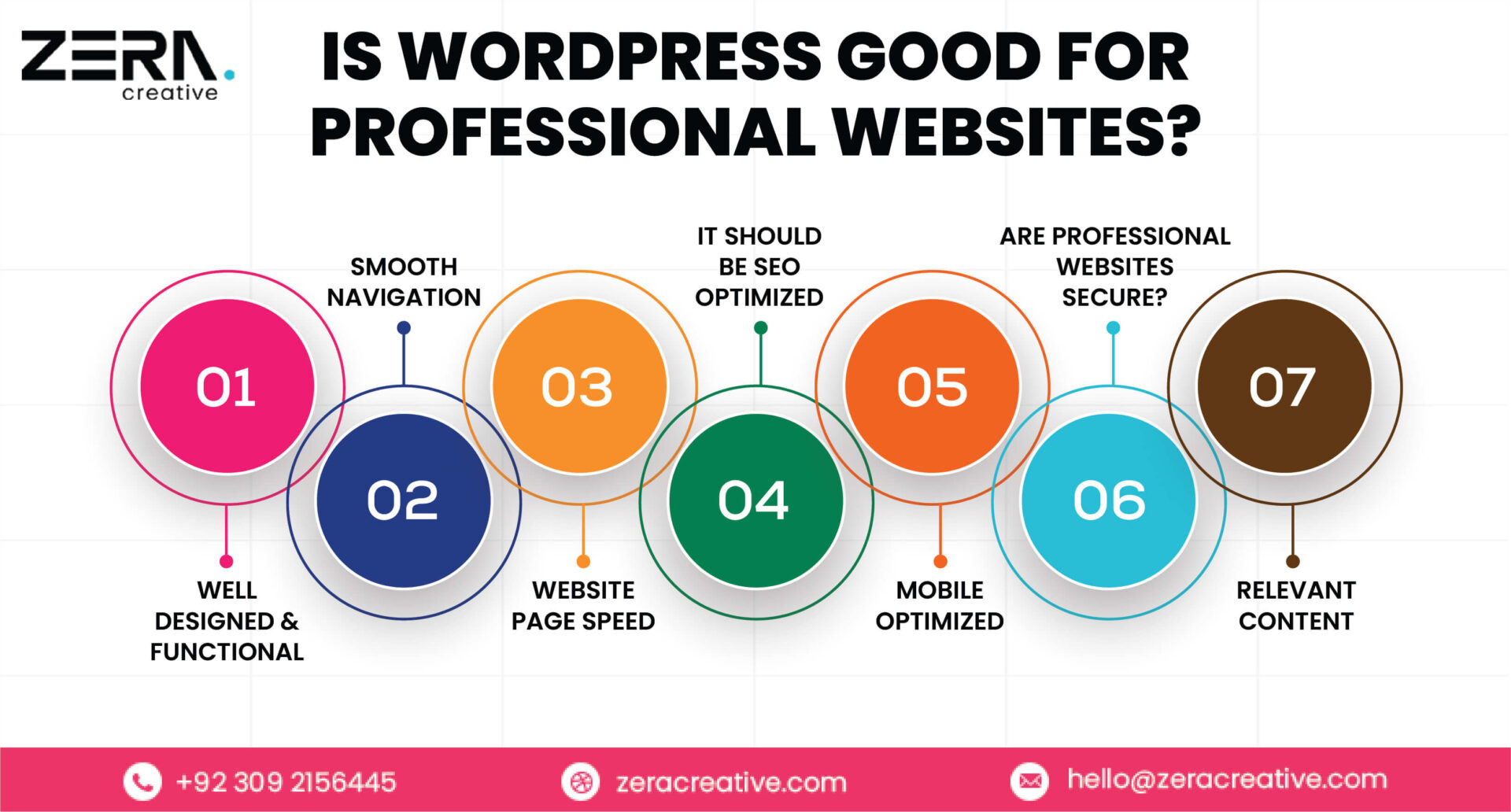 1. Well Designed and Functional
Website aesthetics and design play a huge role to give off a professional look. It doesn't need to go overboard and create something out of the ordinary. But the design theme, choice of colour, and meaningful graphics should be effective for the target market.
All these aspects are necessary to grab attention, portray a coherent message, and give a pleasant experience. Also, it adds to the vitality of conversions. Since every single graphical aspect is important for better conversions.
Next, a website must have a purpose that binds the overall design together, and that's functionality. Suppose one opts in by giving their email address. Upon opting, they're being directed to XYZ place. That XYZ place, or the following location, you direct them to should be thoroughly planned out. In other words, where do they appear next after their initial action?
Everything in the process must be sleek and bound with a purpose-designed functionality.
Does WordPress have?
You better believe it – WordPress offers over 3500 GPL-licensed themes. These themes are designed differently by keeping different business needs and purposes in mind. Further, WordPress is an open-source website where you can customize your website to your needs. (Caveat: That involves a bit of technical knowledge)
Done with design and functionality. Let's move on to navigation.
2. Smooth Navigation
Smooth navigation adds to the appearance aspect that gives users a convenient experience. Advisably, the limited number of items with proper navigations in menus is better for user experience.
From the home page to the last page, all the breadcrumbs navigations need to be as intuitive as possible. Suppose your customer lands on the product page; it must have clear navigation to the home page and vice versa. An easy-to-use interface with intuitive navigation almost always spells out everything, which is a smart approach to increasing conversion rate.
With WordPress themes, simplified navigation is possible. Themes have their own preset navigations. Plus, some plugins would further help with customized navigations.
However, if your website is big and has a lot going on, you better require technical knowledge to further customize it.
Great, you have impeccable and sleek navigations, but what if your customers never get to see your website?
3. Website Page Speed (Load time)
A good professional website loads fast. No matter how amazing aesthetics your website has if it doesn't load your customers would bounce off before ever experiencing it.
Scary, isn't it?
Research by Hosting tribunal shows the importance of 1s delay in website loading.
1-second delay accounts for 11% reduce page views. 16% customer satisfaction plummets by 1s site load delay. 1s delay swipes away 17% of the coveted conversion rate.
Have you ever thought of that? Interesting! In the bigger scheme of things, these numbers are large. 17% conversion rate just by increasing the site load speed by 1s. Crazy! Flip the script, 17% less in profits if it takes 1 extra second. Lots more to think about.
For every professional website we ever worked on, we make sure it loads fast. This not only adds to the professionalism but also affects overall website performance on search engines.
With WordPress, you can reduce site speed by using a fast-loading theme, using fewer plugins, shortening picture size that better optimize, emptying trash, reducing post revisions, drafts, and trackbacks, Enable Gzip compression, Minify and combining CSS and JavaScript, Enabling Browser caching, and install a cache plugin.
Here, you need to be vigilant, any rogue plug-in would reduce your website speed. Nonetheless, a perfect blend is what everyone should aim for.
Conceivably, you've checked in all those boxes still your website would remain slow.
Why?
Because of your web hosting. Choosing the right hosting plan impacts a lot on site speed. This's an important element for a professional website.
4. It should be SEO Optimized
If your website doesn't show up in search results, would it make sense of anything we discuss above?
In today's fast-paced internet world, it's oddly important to optimize websites for better SERPs rankings. That requires constant testing, on-page, and Off-Page SEO optimization, Keywords Optimization, better HTML and CSS coding, Minifying JavaScripts and CSS codes, proper navigations, and much more
There goes a lot of technical programming knowledge to better optimize websites for search engines.
Every professional website is SEO optimized. The reason is, that the better the optimized website, the more relevant customers land on your website.
Let's suppose you want to rank for "Vegan Diet" as you are selling a vegan diet book through the blog. You craft world-class content, do all the SEO, and secure the topmost Google position. By staying on top, you'd have 750 prospects landing on your website every single month. Doesn't it make your profit register ring?
With WordPress, SEO customization is easy, concerning that you know the technical side of things, and how to minify CSS and JavaScript coding, photo optimization, and a few other aspects.
All in all, WordPress is easily optimized. That's why WordPress websites dominate Google SERPs by a long shot.
Ok! Got it. Your website is SEO optimized for the web but does it also optimize for mobile
5. Mobile Optimized
The searches on mobile have surged, and now every other query is being searched on a mobile or desktop. This means around 50% of consumers are using mobile to search for queries.
That implicitly claims that if your website is not responsive and isn't fully optimized for both laptop and mobile/tablet, chances for high profits margin would diminish, which results in an upset consumer base. Google's study reveals 48% of mobile consumers who visit a non-friendly mobile website, would think that the company is not serious about the business.
That largely adds to the professionalism of a website.
Regarding WordPress. Yes! WordPress websites can be responsive and mostly are responsive. Depending upon the theme choice and plugins. Plus, some customized settings.
6. Are Professional Websites Secure?
In today's internet world, security is a massive concern. Not just for giant multinational companies, but for companies of all sizes.
Hackers and cyber thieves are always rooting to access sensitive data and crucial information. On average, every 39 seconds, a cyber-attack took place that steals data from unsecured or mildly secured sites.
That's why big-sized companies pay huge bucks to keep the hackers off.
Without a doubt, every professional website needs to have good web security.
With that, WordPress is secure as long as the developers follow the best practices… Some plugins and themes are secure; however, not all themes and plugins are secure. That could call for certain security attacks.
Better work with professionals like us who know how to keep your WordPress website secure. Web security is quite technical; it isn't like you can't make it secure – NO! You can – but it's highly likely that a few glitches would allow spammers and stealthier to sneak through.
TIP: Keep your website up-to-date that way you minimize the risk of cyber-attack. "As 44% hacking caused by outdated WordPress sites"
That segue to the importance of relevant content on a website…
7. Relevant Content
Crafting relevant content on the topic you'd want to be known for is incredibly important on any website. Especially, if it intends to sell either services or products.
By creating content, you win positions on Google SERPs that land traffic to your blog/website. The more relevant traffic your website gets, the better your conversion rates are. This works hand in hand with SEO. And to create and publish professional-looking content you need a Content Management System.
WordPress is the world-class Content Management System (CMS). WordPress accounts for 61.8% of the market share, Followed by Joomla, which sits at 4.7%. No comparison… Indeed! A clear winner.
Anyone with little or no knowledge can post professional-looking content on professional-looking WordPress Website and can enjoy a traffic surge.
---
Key Statistics helping to decide whether to make a professional website on WordPress
Opinions vary and can take biases. Whereas, data and statistics never lie on the face. They're the representation of the truth, debunk myths, and put cessation on biases.
Let's peek inside what story data unfolds.
"WORDPRESS IS POWERING 35% OF THE WEB"
WordPress has been around since 2003. It was not preferable back then, but now it has come a long way, and unsurprisingly, powering 35% of the web. That shows the dominance of WordPress across the markets. From small businesses to Fortune 500s, its acknowledgement is everywhere.
That's one reason why you need to have a Professional WordPress website.
"WordPress Dominates Google SERPs with 2.28 BILLION RESULTS"
Astonishing is the word for such statistics. When you hop on Google search and write WordPress you'd be surprised to see that many searches related to WordPress. Even the word *Hate* has fewer searchers than WordPress. LOL.
"WordPress is behind 30.3% of the top 1000 websites"
Do you need to go any further after reading this? 300 out of 100 websites are on WordPress. This validates the point that WordPress is fantastic for Professional websites.
"WordPress takes care of 80-90% Of Google's Crawling issues"
According to Matt Cuts, "Sites built with WordPress can rank search results because the CMS takes care of 80-90% Google's crawling issues,". Doesn't that vindicate WordPress SEO friendliness?
---
Hold on before you go with WordPress for your professional website, let's look at statistics against WordPress.
Sucuri got the highest% of cleanup requests from WordPress. (90% of all websites cleaned by them in 2018)
That doesn't mean WordPress is insecure. Since its open-source, anyone can build themes and plugins which come with security vulnerabilities. Here, requires proper knowledge of this subject.
Explore 33 Top Famous WordPress-based Websites
If you are still on the fence, about whether WordPress is the right solution. Read through the list and I'll ask by the end.
Here are some 33 famous websites on WordPress. A few will shock you;

We can go on and on and on to add more credible names that are using WordPress. We believe these 30+ names are enough to give you a positive perspective on WordPress.
Our question is, are you still on the fence?
But, before you leave the place let's discuss some Pros and Cons – (Based on Primary research, and years of experience)
WordPress Pros
WordPress is FREE
Extremely customizable – From designs, features, to functionalities. Everything can be customized based on preference. It's open-source which means you can make your own plugins, own themes, or can use third-party free or paid themes, plugins, shopping tools, and much more to make the website look better.
The possibilities are endless. Undoubtedly.
Excellent repository of world-class plugins. Other CMS solutions have not more than a few options for distinct features. But in WordPress, the choices are almost endless. Which is brilliant for a professional website.
WordPress is the world's best Content Management System.
WordPress is great for your SEO Agency. Doing SEO on WordPress is easy as it's open-source so anyone with little technical HTML and CSS knowledge can make it SEO friendly.
Budget Friendly – You don't need to spend tons to create a professional-looking WordPress website.
WordPress Cons
The updates are not automatic and can break sites. Be vigilant with what theme or plugin you use. Free Plugins and Themes are more prone to crashes.
Since it's the largest CMS, spammers love to spam. Unfortunately, you've to keep your site healthy from spammers all by yourself. Nothing automatic here, Cringy.
Another downside of it being a most-used CRM, a lot of hackers are always on the lookout to sneak inside and steal your data or damage your website. So, always update the software when they're due, and keep patching plugins to the latest versions.
If you're not well versed with plugins and themes better not to implement it yourself. Because it can hugely impact your page load speed. So, it's a great concern.
Securing a WordPress website can be hazardous if your Programming knowledge is not good.
To fully customize the design to your needs, you need programming knowledge. Sometimes, you want to customize navigations, border sizing, change Typography, and many other things. Without HTML/CSS/PHP/jQuery knowledge, it would cause issues.
Final Words
In the discussion above, we've touched upon several factors that make up whether WordPress is a viable option for professional websites.
Plus, we also touched upon some factors that vouch against WordPress for a professional website. Also, we saw a few hugely popular brand websites developed on WordPress.
All of the above dissection concludes on the point that WordPress has been the most successful, widely used, and acknowledged platform across all industries. As it's highly customizable.
Like any other web development platform, it has a few glitches and areas that need improvement. But the best point is all such mistakes are avoidable and manageable with better programming know-how.
The final verdict is
WordPress is amazing for Professional Websites
And with advanced knowledge, it runs smooth – without any trouble. If you want your website to look Professional, and Attract & convert more leads into customers, you can send us an inquiry we'll be there assisting.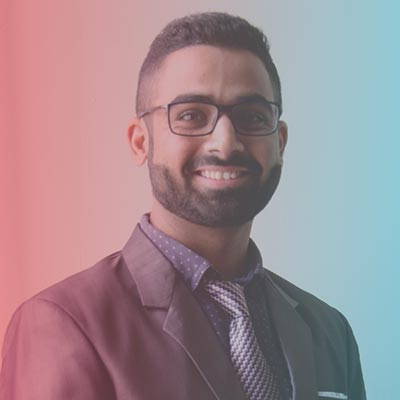 Noushad is a Serial Entrepreneur and CEO of the Zera Creative, which is a modern-day SEO Services Company that focuses on building, managing, and ranking world-class brands on top of major search engines. Noushad has 10+ years of experience in the digital marketing and IT industry.