AI wonders are making graphic design agencies giddy with excitement and terrifying them at the same time. Its massive transformation into the tech world has shaken numerous industries and the design world is no exception.
Where newbies fear AI to be a substitute, professionals know how to leverage its full capacities. So, if you are wondering how the technology can help transform the design industry and what ways AI can assist an ethical designer, here's the blog to find your answers.
Growth and Application of AI Across Major Industries
AI has experienced a snowballing adoption rate over the years due to its uncompromising efficiency and advances. According to the Statista report, the global market size reached $327.5 billion in 2021.
Whereas, Gartner predicted AI software to reach $62 billion in 2022 alone. The global annual revenue of AI software currently is around $50 billion, see below: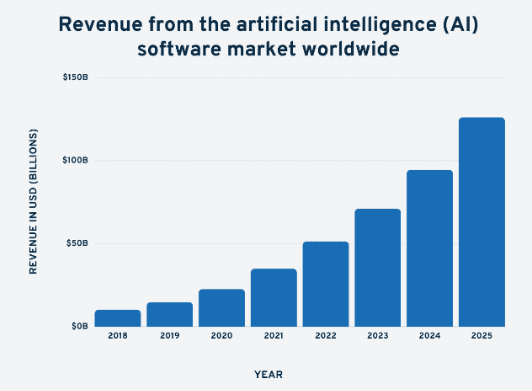 Source: Omdia
AI software integrates a business with its uncountable benefits. Reduced operational time, greater business insights, automation, enhanced productivity and reduced human error are some it powers up any business.
At present, tech giants such as Google, Apple, Amazon and Microsoft are spending billions of dollars on AI products and services. However, considering the potential of Artificial Intelligence, universities are making it a prominent part of their curricula. All the major industries have now untapped the undeniable significance and the role of AI to influence innovation and advancements in terms of productivity, security and efficiency. So, how does AI transform the design industry? Let's dive deep below:
Future of AI Designs: Rising Above the Hype
To let AI assist graphic design agencies with its full capacity and potential there is a need to first deconstruct it. Instead of thinking about AI as "artificial intelligence"– a substitute, consider it as "augmented intelligence". Designers need to conceptualise AI as a tool that augments the level of intelligence in a service in terms of its overall quality or productivity.
AI bots are not replacing designers but instead assisting them in terms of optimization and speed. A designer using AI software tends to create designs faster and with greater proficiency. AI bots have the power to analyze vast amounts of data and offer accurate suggestions to enable a designer to create a most engaging and industry-specific design.
Speedy Design Prototyping
With the help of AI tools, designers can create multiple prototype versions that can be A/B tested with users. The tools assist in scanning basic sketches for speedy design prototyping. In the AI tool users enter a few parameters and get a library full of UI components that provide a prototype which is aligned with the company's design system. Airbnb is one of those early adopters who are using this technology to generate design components using computer vision-enabled AI and machine learning.
Seamless Product Localization
AI has introduced game-changing models to integrate personalization in the design industry. Google, Facebook and Netflix have been using AI technology to capture the attention of their users and keep them engrossed in their platforms. Two major problems that every designer has encountered were product localisation and the translation of a design into multiple languages, both of these issues are now fully catered to by AI.
Google's neural machine translation embedded AI bots allows users instantly translate visual information into another language. Moreover, Netflix is leveraging AI to localization of show banners into different languages along with artwork personalization. With AI bots the localized and personalized graphics are instantly created without there need for designers to spend time on them. All that is needed is a skim through to approve or reject the design if necessary.
Unique Packaging Designs
A human mind may seize to restrict its capabilities under a certain condition or situation. For instance, for a designer to create multiple unique copies for the same brand having the same ideology is a bit complicated. However, with the help of AI, a professional can commit millions of unique designs with each having incredibly engaging creativity.
The AI algorithms untapped dozens of distinctive patterns, colours and aesthetics creating seven million unique packaging designs for Nutella. It accelerated the product sales that were presented with captivating designs printed on the front of each jar in Italy. The technology usurped the traditional role of a graphic designer to spend hours creating unique designs.
The Need For Graphic Designers To Co-Create With AI
AI design software enables designers to produce eye-catching designs faster and quicker. The bots refine a product's image by successfully comparing it with millions of others. it helps in generating enhanced user engagements.
Moreover, by incorporating a personalized touch into the designs brands can generate an accelerated ROI. AI targets multiple data points to fully comprehend a user's journey and enables designers the rich data to create the most targetted designs.
AI using facial recognition is able to determine age, gender, context, location and the current mood of users. With this data, a UX designer can target the audience more efficiently.
According to the research, the use of digital assistance by 2021 would reach 1.8B. Hence, with the use of coupling AI and voice recognition, UX designers are able to create speedier and more efficient designs.
Furthermore, AI enables designers to leverage usability metrics. It processes a large amount of data that results in the creation of high-performing designs for products. Lastly, by co-creating with AI, designers can ponder on how users read and look at data that can help them in paying more attention to important areas to target.
Key Giveaways
The tech world is experiencing some major transformation with the rapidly changing customer behaviour. In the image-obsessed digital world, graphic designers must stay updated with technology. At zera Creative, we have trained and experienced professionals who have the hands-on expertise to leverage AI technology. So, if you are enthusiastic to have a brand-centric image of your firm get in touch with our professionals now.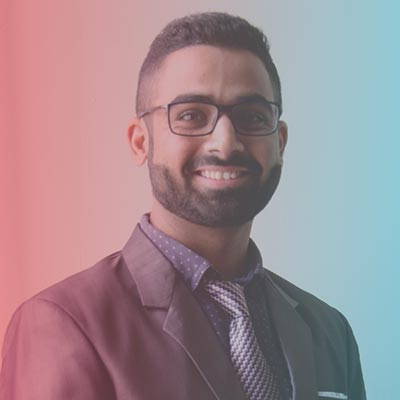 Noushad is a Serial Entrepreneur and CEO of the leading Digital Agency 'Zera Creative' which is a modern-day Website and SEO Company that focuses on building, managing, and ranking world-class brands on top of major search engines. Noushad has 10+ years of experience in the digital and IT industry. He writes about SEO, Marketing, Branding, Websites, Productivity, and Life in general.