Search Engine Optimisation or SEO is the core brick to support and flourish any business in the digital realm. The SEO experts of Pakistan, by keeping updated with the advancing trends of algorithms, integrate and follow every trick and strategy to position brands higher in major search engines. According to research, over 68% of online experiences begin with a search engine.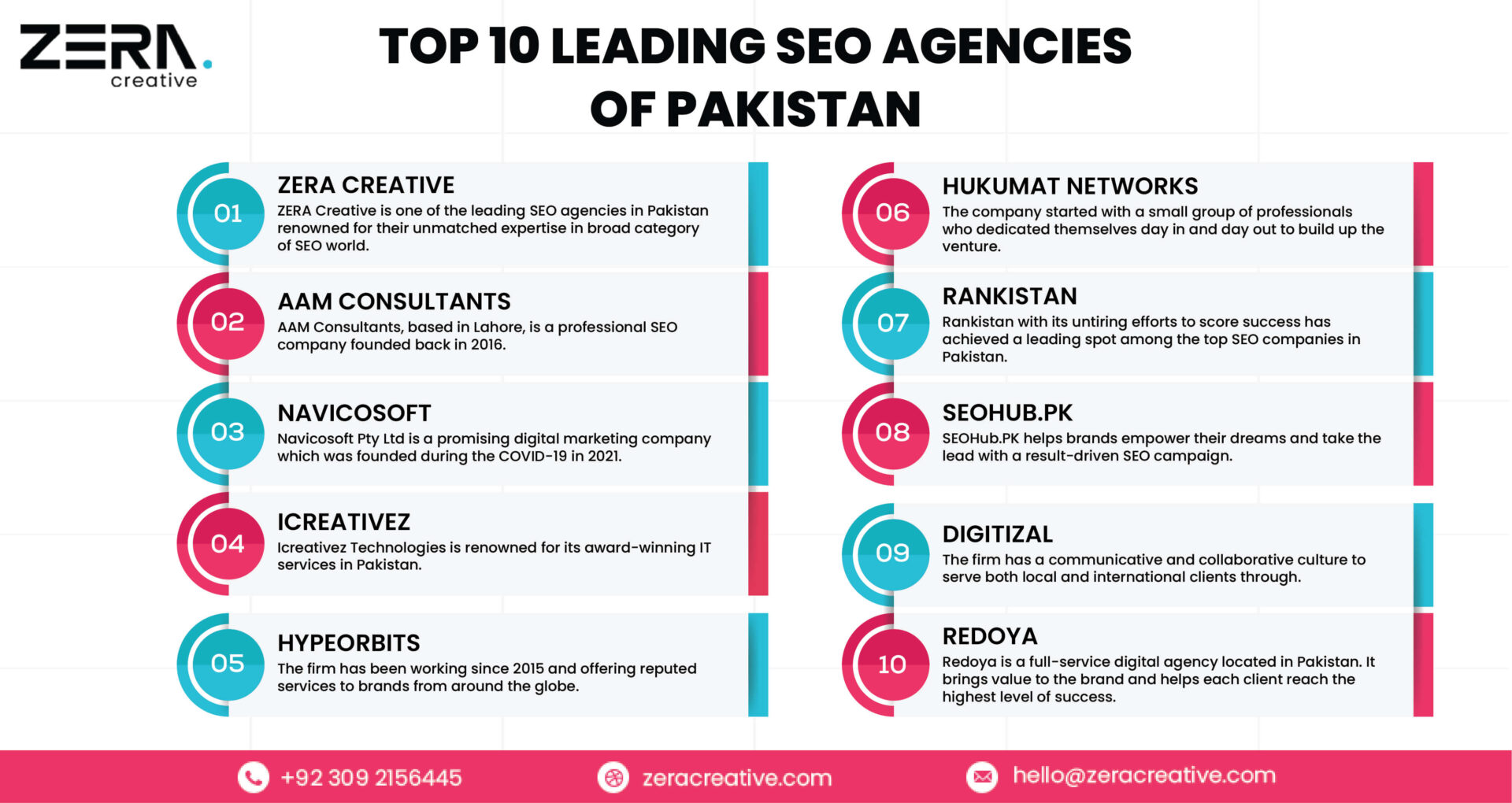 Moreover, when it comes to conversions and lead generation, SEO has a 14.6% closing rate of highly prospective leads. Organic search results are a critical area of concern for a business to thrive. When it comes to digging out the potential search engine optimisation holds, it's stated that around 86% of visitors prefer to click on organic search results rather than on paid ads/links.
Knowing the uncountable benefits of optimising your websites for SERPs, you must be wondering who to consult and where to start. Here is a list of the top 10 SEO agencies of Pakistan reputed for their untiring efforts, expert SEO skills and promising rankings.
Zera Creative
AAM Consultants
Navicosoft
Icreativez
Hypeorbits
Hukumat Networks
Rankistan
SEOHub
Digitizal
Redoya
1. ZERA Creative
ZERA Creative is one of the expert and leading SEO agencies in Pakistan renowned for their unmatched SEO expertise in the broad category of digital marketing world. Working since 2013, they offer reliable and 100% result-oriented seo services at very competitive pricing.
With a panel of the most qualified and intelligent SEO experts, the company is listed as the leading SEO company in Pakistan in the local digital space. They carry out in-depth research of brands before creating a noteworthy strategic plan. Their campaigns drive the best results bringing businesses among the leading ranks in the google and bing search engine. Transparency and utmost devotion to work are reputed as the cornerstone of their services.
2. AAM Consultants
AAM Consultants, based in Lahore, is a professional SEO company founded back in 2016. The firm has a close circle of talented and well-trained professionals who have always delivered the highest quality services. When it comes to optimisation, they follow critical SEO techniques that help brands sustain leading positions in the search engine. They have satisfied over 1000 clients from all around the world.
3. Navicosoft
Navicosoft is a promising digital marketing company which was founded during COVID-19 in 2021. It has a midsized team of professionals in Docklands – Australia, London, United Kingdom and Lahore – Pakistan. Navicosoft has a diverse panel of experts who have worked with some of the top brands around the world.
Through acute planning and cutting-edge tools, they dig into the industries and learn about the target audience before helping brands to position in the search engine.
4. Icreativez
Icreativez Technologies is renowned for its award-winning IT services in Pakistan. They have a dedicated workforce of experts who cater to the unique needs of their clients right on time and up to the expected quality. Using innovative technologies, the firm has embarked on a successful journey and became known as the top SEO service provider.
They serve small to medium-sized businesses with immaculate campaigns integrated with cutting-edge techniques and result-driven strategies. The firm has created an irreplaceable footprint in the eCommerce service industry along with offering notable website development and digital marketing services.
5. Hypeorbits
Hypeorbits is yet another exciting SEO firm located in Lahore. The firm has been working since 2015 and offering reputed services to brands from around the globe. They have a knack for creativity and a superior set of expertise in the field of search engine optimization.
They help brands shape their identity and imprint the personality in the minds of their target audience. Scoring promising results, their SEO campaigns generate accelerated conversion rates.
6. Hukumat Networks
Hukumat Networks is located in Rawalpindi, Pakistan. It's an innovative and customer-centric firm with offices based in USA and Pakistan. The company started with a small group of professionals who dedicated themselves day in and day out to build up the venture.
Their strength lies in the strategic planning to create such powerful SEO campaigns that can raise the business from the ground up. Hukumat Networks is known for streamlining processes using advanced technology that guarantees top results.
7. Rankistan
Rankistan with its untiring efforts to score success has achieved a leading spot among the top SEO companies in Pakistan. The company is located in Lahore and has a huge team of experts. They offer professional SEO services along with social media marketing and PPC solutions. The experts at Rankistan dive deep into the market and study its demographics to create powerful lead-generating campaigns for the brands. They build a positive outlook that accelerates organic results within a short span of time.
8. SEOHub.PK
SEOHub.PK helps brands empower their dreams and take the lead with a result-driven SEO campaign. The firm is located in Karachi, Pakistan and has a broad team of qualified professionals. They plan, strategise and run potential campaigns that reach out to prospective customers and increase on-site traffic. Making the foundation of every brand stronger and more progressive, SEOHub.Pk is renowned for its unmatched expertise. They stay connected to their clients throughout the process and keep them updated about every milestone they achieve.
9. Digitizal
Digitizal is a full-fledged development and digital marketing company founded back in 2015. The firm has a communicative and collaborative culture to serve both local and international clients through. They offer promising SEO services with game-changing ideas to boost organic search results.
They have completed over 500 projects for clients from all across the globe. They have an enthusiastic team of professionals who create incredible strategies to help brands surpass their competitors.
10. Redoya
Redoya is a full-service digital agency located in Pakistan. It brings value to the brand and helps each client reach the highest level of success. The firm offers the most competitive SEO services and elevates the brand's presence in the search engine.
Its teams of SEO enthusiasts create and execute campaigns that drive targeted results at market-competitive pricing. Redoya strives to offer flawless and result-oriented services by keeping its teams updated about the rapidly changing SEO trends and techniques.
Let's Wrap Up
Search engine optimization offers a long-term benefitting plan to businesses. It takes time to build an organic reach and to convert prospective visitors into potential clients. As brands have entered into the post-COVID phase, surface within the industry SEO has become a crucial need.
It would be best if you relied on a firm that can assure to generate targeted results and is experienced enough to understand your business along with penetrating your market. All these leading SEO companies in Pakistan acquire extensive experience and impeccable expertise to work in accordance with high-tech search engine bots.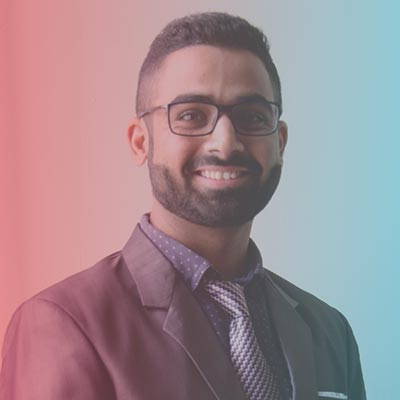 Noushad is a Serial Entrepreneur and CEO of the leading Digital Agency 'Zera Creative' which is a modern-day Website and SEO Company that focuses on building, managing, and ranking world-class brands on top of major search engines. Noushad has 10+ years of experience in the digital and IT industry. He writes about SEO, Marketing, Branding, Websites, Productivity, and Life in general.