BRANDS THAT WORK WITH ZERA CREATIVE
YOU ARE NEXT
We serve a range of industry sectors and deliver creative ideas across all media platforms, including the internet, film & television, interactive media, and personal devices. Our clients love us for the ideas we have, the work we create and the relationships we form with them and their teams.
Take a moment to read our key client case studies or review the list of past and present clients below.
OUR TESTIMONIALS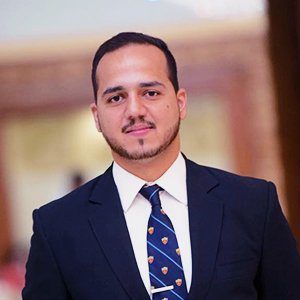 Owais Tahir
Managing Partner, Regalien Gold Marquee
Very professional in their work. Noushad and his team were very responsive to my ideas and focused towards creating a product that met my expectations and vision. I would highly recommend their services.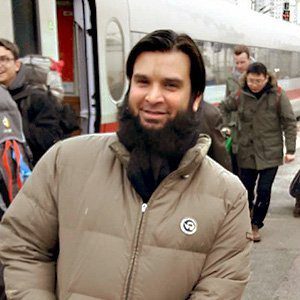 Muhammad Junaid Vohra
CEO, Essential Element Leather
I am very impressed with the core knowledge and dedication of the team head Noushad Ranani. Team Zera Creative is simply the best solution provider for a beginner in the digital world as well as totally professional for those who already have digital footprints.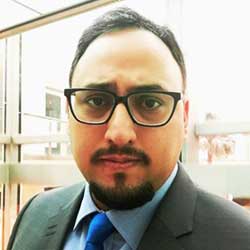 Akif M. Shaikh
CEO, Waiiz and Techarabiya
We have engaged Zera Creative for more than 6 months now in many areas from Company Branding to Website Development, Company Profile, Brochures, Flyers & Tech Support for our Websites. Zera Creative is a reliable, honest & trusted agency that delivers, what they promise. It has been a real pleasure working with them and I am hoping for a long-term relationship.
SOME MORE...
They are simply amazing and deliver an outstanding product.
Yasir Salman Ansari
October 27, 2020.
We have been cooperating with Zera Creative for 4 years. Zera Creative's team of five developers and designers have been working hard to ensure our product exceeds our customer's expectations. The team has become an integrated part of our company, and we appreciate their efforts and passion for the product. Zera Creative's experience in agile development ensured smooth project implementation and iterative development of our product. This enabled us to adjust to the changing market requirements and incorporate features that made us stand out from competition. As a result, we have evolved into an easy-to-use and scalable platform, which is crucial for our success. Thank you for the great job so far Team Zera!
Parvez Ali
September 27, 2020.
By and large content with Zera Creative Agency, Very expert work, extraordinary pivot time. I was truly baffled with my past organization, I am so happy I discovered them to do online media promoting and site improvement for my business. Will prescribe to anybody hoping to expand their business particularly on Social Media.
Uzair Ahmed
September 3, 2020.
Zera Creative was recommended to me very highly by a customer. So I started using them and I am so impressed with the level of service. They did a fantastic job on my website.
syed faizan uddin
September 2, 2020.
Overall very happy with Zera Creative Agency, Very professional work, great turn around time. I was really frustrated with my previous company, I am so glad I found them to do social media marketing and website development for my business. Will definitely recommend to anyone looking to increase their business especially on Social Media.
Karishma Sharif
September 1, 2020.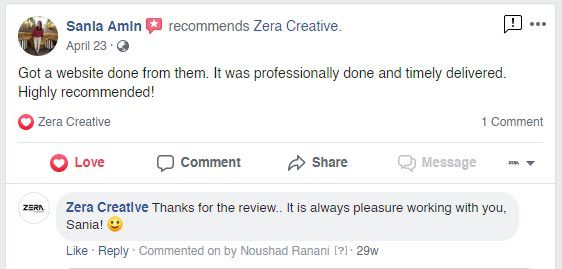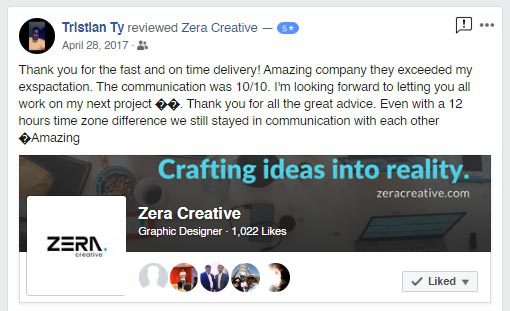 Have an idea?
Let's Work Together
Want to get started on your next project or need some more information before you dive in? Fill in the contact form and we'll give you a call.