Company Profile Design Agency in Karachi
Are you a business, startup or SME owner struggling with getting your business identity across to your ideal clients? We know how daunting it can be to have a company introduction and portfolio presented in a proper manner. There is no denying you need a company profile, if not at this stage, then in the future as well. Zera Creative is leading Company Profile Design Agency in Karachi.
Company Profile Design Services
This is why you are at the right place if company profile design service is what you want. Zera Creative is one of the leading Company Profile Design Agency in Karachi, Pakistan that provides company profile writing and designing services.
In the end, it all boils down to how you present what you do, not actually what you do!
We are a unique Company Profile Design Agency in Karachi with satisfied clients spread across the world. If you are wondering why unique? That's because we have handled numerous clients, all belonging to different sectors and industries – all contended with how we have taken their briefs and turned them into the dream company they didn't even realize they were all along.
The significance of having a complete corporate and client profile cannot be emphasized enough. It wouldn't matter how good you are in what you offer, if you can't show them to your audience, it all goes down the drain. With our Company Profile Writing Services and Company Profile Design Services, we combine your expertise with ours to create profiles that speak volumes for those clients that are ready to throw their money on you.
There is no denying you need a profile, if not at this stage, then in the future as well. So, what's the next step? Prepare a brief and Contact us. Our company profile writing agency will help you turn the brilliance of your work into a concrete reality to be presented. See you on the other side of the email!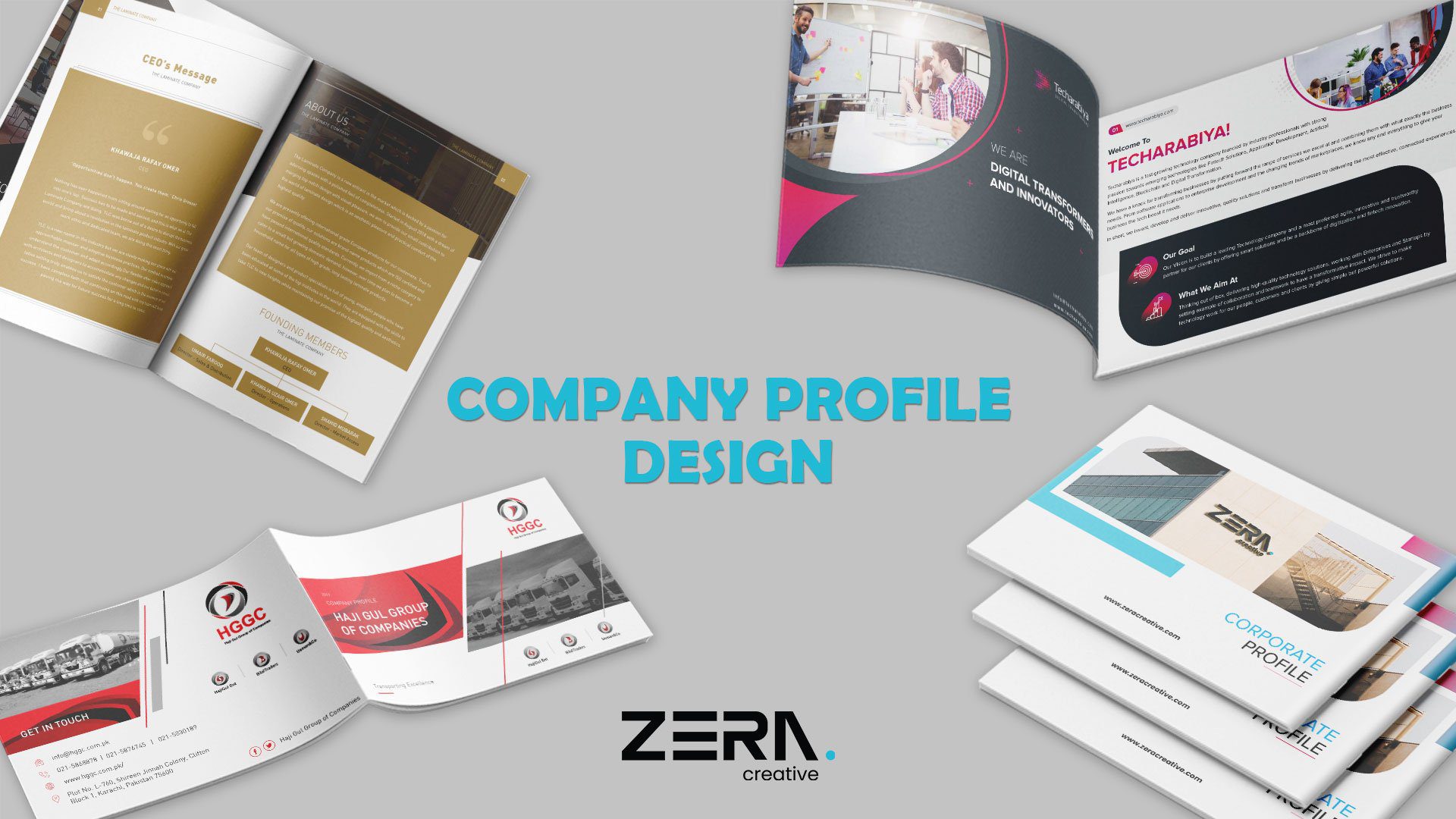 Company Profile Portfolio
WHY CHOOSE ZERA CREATIVE AS YOUR COMPANY PROFILE DESIGN AGENCY?
Collaborate with the Best Company Profile Design Agency in Karachi, Pakistan to Brighten up your Idea.
Customer-Engaging Brainstorming
Custom Illustrator Design

100%

Client satisfaction
24×7 Support and Communication
Premium Stock Photography
Final Delivery with all required files like PDF, PSD, & AI.
Real Client Testimonials on Google
WHAT SOME OF OUR SATISFIED CUSTOMERS ARE SAYING
They are simply amazing and deliver an outstanding product.
Yasir Salman Ansari
October 27, 2020.
We have been cooperating with Zera Creative for 4 years. Zera Creative's team of five developers and designers have been working hard to ensure our product exceeds our customer's expectations. The team has become an integrated part of our company, and we appreciate their efforts and passion for the product. Zera Creative's experience in agile development ensured smooth project implementation and iterative development of our product. This enabled us to adjust to the changing market requirements and incorporate features that made us stand out from competition. As a result, we have evolved into an easy-to-use and scalable platform, which is crucial for our success. Thank you for the great job so far Team Zera!
Parvez Ali
September 27, 2020.
By and large content with Zera Creative Agency, Very expert work, extraordinary pivot time. I was truly baffled with my past organization, I am so happy I discovered them to do online media promoting and site improvement for my business. Will prescribe to anybody hoping to expand their business particularly on Social Media.
Uzair Ahmed
September 3, 2020.
Zera Creative was recommended to me very highly by a customer. So I started using them and I am so impressed with the level of service. They did a fantastic job on my website.
syed faizan uddin
September 2, 2020.
Overall very happy with Zera Creative Agency, Very professional work, great turn around time. I was really frustrated with my previous company, I am so glad I found them to do social media marketing and website development for my business. Will definitely recommend to anyone looking to increase their business especially on Social Media.
Karishma Sharif
September 1, 2020.
Interested to try Zera Creative as your Company Profile Design Agency for your Business?
If you like what you have read till yet, contact us now so we can help you more and offer you a lot more!