Company Profile Design Agency in Karachi
Are you a business, startup or SME owner struggling with getting your business identity across to your ideal clients? We know how daunting it can be to have a company introduction and portfolio presented in a proper manner. There is no denying you need a company profile, if not at this stage, then in the future as well. Zera Creative is leading Company Profile Design Agency in Karachi.
Company Profile Design Services
This is why you are at the right place if company profile design service is what you want. Zera Creative is one of the leading Company Profile Design Agency in Karachi, Pakistan that provides company profile writing and designing services.
In the end, it all boils down to how you present what you do, not actually what you do!
We are a unique Company Profile Design Agency in Karachi with satisfied clients spread across the world. If you are wondering why unique? That's because we have handled numerous clients, all belonging to different sectors and industries – all contended with how we have taken their briefs and turned them into the dream company they didn't even realize they were all along.
The significance of having a complete corporate and client profile cannot be emphasized enough. It wouldn't matter how good you are in what you offer, if you can't show them to your audience, it all goes down the drain. With our Company Profile Writing Services and Company Profile Design Services, we combine your expertise with ours to create profiles that speak volumes for those clients that are ready to throw their money on you.
There is no denying you need a profile, if not at this stage, then in the future as well. So, what's the next step? Prepare a brief and Contact us. Our company profile writing agency will help you turn the brilliance of your work into a concrete reality to be presented. See you on the other side of the email!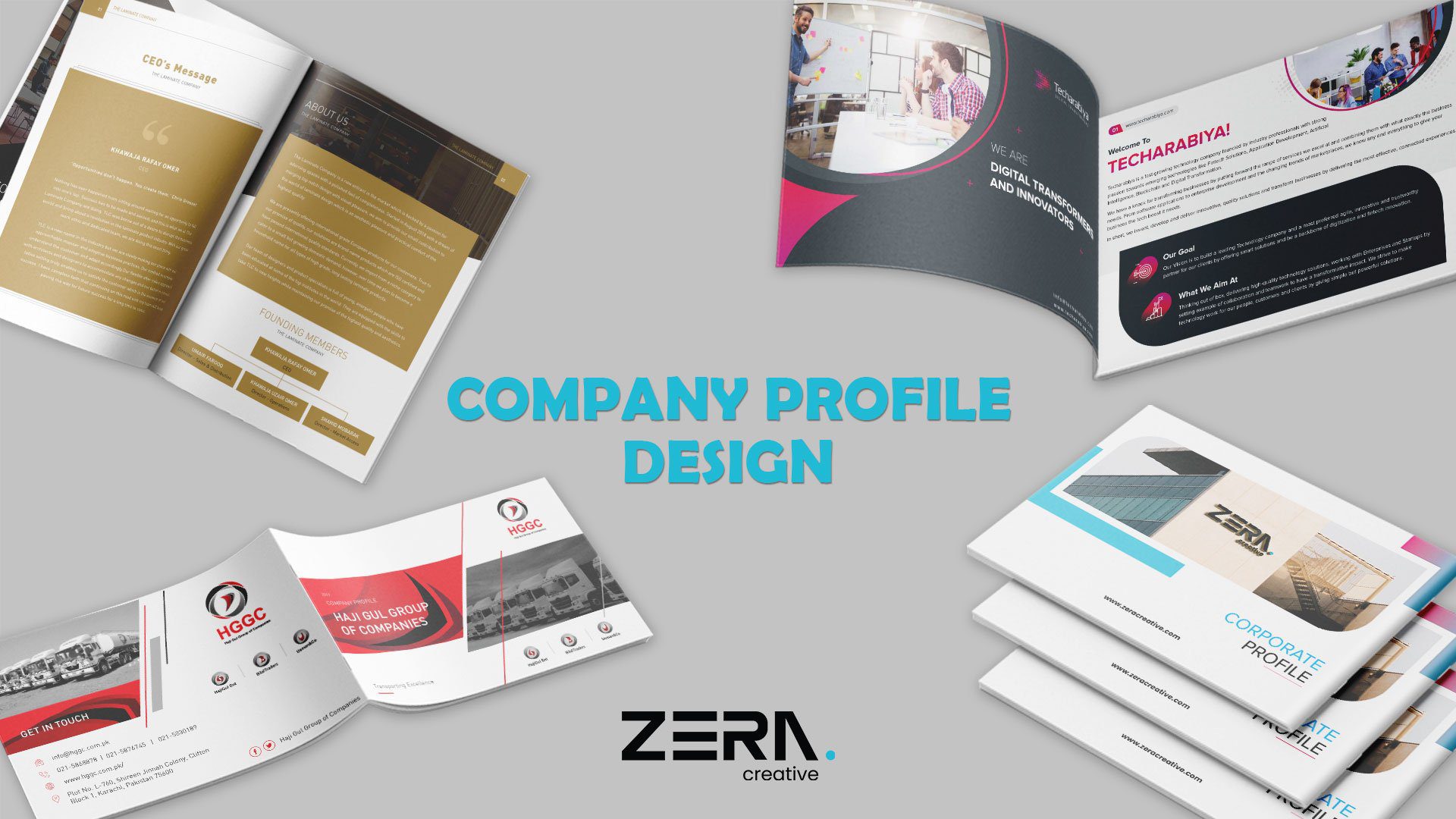 Company Profile Portfolio
WHY CHOOSE ZERA CREATIVE AS YOUR COMPANY PROFILE DESIGN AGENCY?
Collaborate with the Best Company Profile Design Agency in Karachi, Pakistan to Brighten up your Idea.
Customer-Engaging Brainstorming
Custom Illustrator Design

100%

Client satisfaction
24×7 Support and Communication
Premium Stock Photography
Final Delivery with all required files like PDF, PSD, & AI.
Real Client Testimonials on Google
WHAT SOME OF OUR SATISFIED CUSTOMERS ARE SAYING
Sarmad Idrees
March 31, 2021.
Being a business technology consulting company we wanted our website to be dynamic, well versed, and, refreshing in terms of design language. Upon evaluating multiple vendors we got to know about Zera Creative Agency. As we are based out of Lahore and Zera operates from Karachi, we thought of it as a communication challenge but to our surprise the team at Zera Creative never let us notice that gap. They were always responsive, constantly coming up with new designs and ideas, and were super flexible to work with. Our project of the website revamp completed in due time and the journey comprised of multiple revisions and uncountable meetings. Zera creative Agency excels in professionalism and commitment and it is always a pleasure to work with such professional people who don't only know the process but also enjoy being part of it.
Zain Farooq
February 11, 2021.
Naushad and Zera Creative have been amazing in delivering exactly what I expected. They were quick in responding to my queries and delivery was timely. Would def recommend anyone wanting to get digital services including website development.
Mush Panjwani
January 14, 2021.
Good work, team Zera! Happy with all your services - website audit, domain registration, site migration, server setup wagera wagera. Best wishes 🙂
Deans Corner
January 9, 2021.
As an educational institute which has a very different set of variables for the end user to experience, Zera Creative consistently meets our expectations in providing the best value for the services we provide. Very professional and highly responsive, Zera's web development services are excellent Thank you for being a partner of Credo.
Rizwan Khan
December 12, 2020.
I read in Aptech Metro stargate
My Self Entrepreneur
November 30, 2020.
Don't waste your time and money with other Website Development Companies in Karachi! Zera Creative Agency does everything you are looking for, on time and in budget. They are reliable & won't let you down. MUST TRY THEM ONCE. Thanks guys for my multiple Website Development related needs. You guys are the BEST WEBSITE DEVELOPMENT COMPANY IN KARACHI PAKISTAN.
Yasir Salman Ansari
October 27, 2020.
They are simply amazing and deliver an outstanding product.
Interested to try Zera Creative as your Company Profile Design Agency for your Business?
If you like what you have read till yet, contact us now so we can help you more and offer you a lot more!