Social Media Management Services in Pakistan
Are you a business, startup or SME owner struggling with getting your business identity across to your ideal clients? here is no denying you need a proper social presence through our social media management services, if not at this stage, then in the future as well. Zera Creative is leading Social Media Management Company in Karachi.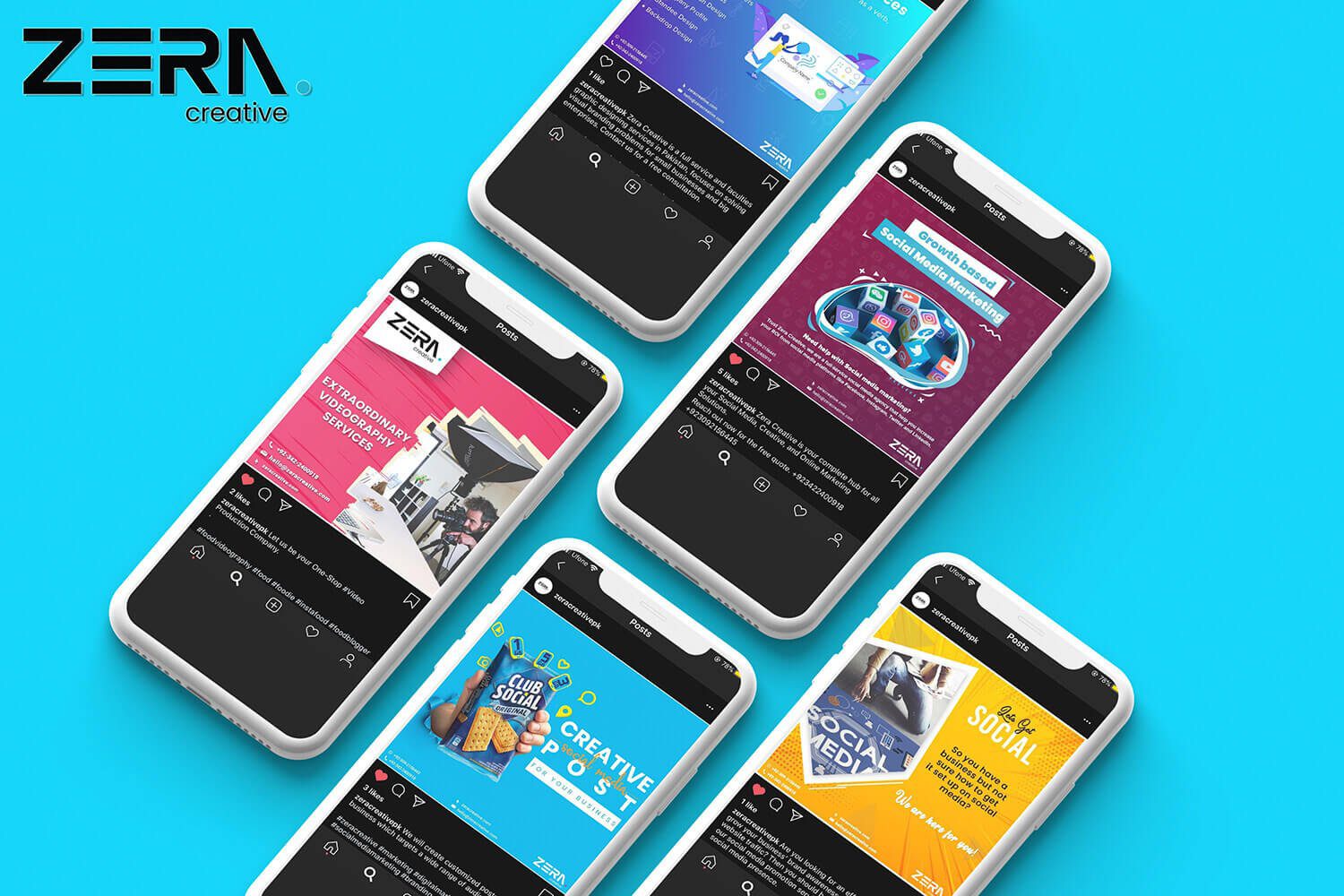 Social Media Management Services
Social Media Management is the process of engaging with potential customers or target audience on various social media platforms. It includes managing your brand's social presence while monitoring your relationships with potential customers and publishing content through social media platforms. Almost all the businesses are promoting from the social media channels that includes Facebook, LinkedIn, Instagram, Twitter, and so on.
However, social media management is going beyond just keeping you updated with all the posts and news of your company's whereabouts. It improves your social media marketing services, engages with the audience, and looks forward to new opportunities for your brands, which is an ultimate way to increase its visibility to users. With that, you need to understand how your brand will maintain the profile on social media with all the consistency and goodwill.
Two brands can't be same. With the appropriate social media management services providers, you can make your brand visible with uniqueness, which will become the ultimate reason for your brand's success.
1. Choose the Right Platform for Your Brand
Your brand needs to hire professionals to endure your social media accounts to determine the platform where your brand will work the best for your users. Your brand is going to have sets of alternatives, which include:
Facebook with more than 2.9 billion significant users.
Instagram that can be used for creating your visual content more effectively.
Twitter will help your brand and products be updated with the trending content, along with honest reviews.
2. Track Social Media Growth for Your Brand
The power of branding your services on social media channels drives your brand effectively to meet its marketing goals and business objectives. Several critical factors by which your brand can reach its success, such as motoring your brand, analyzing, and reporting on social media growth, can make an unreal difference for your brand's success.
3. Social Media Management Strategies
Social Media Specialists hold enough awareness of identifying strategies to manage your social media accounts for your customer's long term reliability. That way, they will make sure that your audience reaches out to all the marketing goals once your brand strategizes the right platform that you are going to use for your customers.
You need to know how frequently you are active on these platforms and what type of posts and content you are uploading for your customers for their attention and privileges. A brief plan will help your brand undertake its purposes with a sense of direction. However, social media management strategies will allow you to identify your social goals, involve audiences, and optimize your results for your business's success.
Social media is growing and will continue to grow for your business needs. We at Zera Creative, are there for your brand's awareness strategically and provides you with the best Social Media Management Services in Pakistan only for your business's growth, hence, success!
Social Media Management Portfolio
WHY CHOOSE ZERA CREATIVE AS YOUR SOCIAL MEDIA MANAGEMENT AGENCY?
Collaborate with the Best Social Media Management Agency in Karachi, Pakistan to Brighten up your Idea.
Customer-Engaging Brainstorming
Original Ideas and Design

100%

Client satisfaction
Awesome Support and Communication
Premium Stock Photography
Pre-scheduled and Live Posting Both.
Real Client Testimonials on Google
WHAT SOME OF OUR SATISFIED CUSTOMERS ARE SAYING
They are simply amazing and deliver an outstanding product.
Yasir Salman Ansari
October 27, 2020.
We have been cooperating with Zera Creative for 4 years. Zera Creative's team of five developers and designers have been working hard to ensure our product exceeds our customer's expectations. The team has become an integrated part of our company, and we appreciate their efforts and passion for the product. Zera Creative's experience in agile development ensured smooth project implementation and iterative development of our product. This enabled us to adjust to the changing market requirements and incorporate features that made us stand out from competition. As a result, we have evolved into an easy-to-use and scalable platform, which is crucial for our success. Thank you for the great job so far Team Zera!
Parvez Ali
September 27, 2020.
By and large content with Zera Creative Agency, Very expert work, extraordinary pivot time. I was truly baffled with my past organization, I am so happy I discovered them to do online media promoting and site improvement for my business. Will prescribe to anybody hoping to expand their business particularly on Social Media.
Uzair Ahmed
September 3, 2020.
Zera Creative was recommended to me very highly by a customer. So I started using them and I am so impressed with the level of service. They did a fantastic job on my website.
syed faizan uddin
September 2, 2020.
Overall very happy with Zera Creative Agency, Very professional work, great turn around time. I was really frustrated with my previous company, I am so glad I found them to do social media marketing and website development for my business. Will definitely recommend to anyone looking to increase their business especially on Social Media.
Karishma Sharif
September 1, 2020.
Interested to try Zera Creative as your Social Media Management Agency for your Startup or Organization?
If you like what you have read till yet, contact us now so we can help you more and offer you a lot more!